The Rise of Augmented Reality and Its Impact on SEO
The Rise of Augmented Reality and Its Impact on SEO
By Shamsher Singh Bhullar

17th July 2020
When you hear the term augmented reality, your mind plays flashes of science fiction films where technology brings out real-life experience on screen. But, at present, AR is not only limited to movies; the way it blends's in our daily life is just incredible. AR provides you with visual information layered on the physical world. The new-age technology uses a live picture and aligns it with the user's real-world environment, resulting in an excellent virtual experience. AR has changed the game altogether for business houses, especially for firms offering SEO (search engine optimization services).
AR is the new buzzword and has plenty of features in store for SEO specialists. We can say without any doubt that augmented reality and SEO eventually go hand in hand. AR can add value, enhance user experience and solve problems online. Hence there is a dire need for firms to include AR in their marketing campaigns. But, before we talk about the impact of AR on SEO, let's delve into some technical details.
What exactly is AR and how it's related to SEO?
Have you ever tried your hand at Pokemon Go or applied filter to your face on Snapchat? If so, without knowing you have had the first-hand experience with augmented reality. However, there is much more in store for you. AR deals with using computer-generated images and putting it into the real world via the camera on a smartphone, tablet or any other digital device.
While most of the applications of AR deal with the world of gaming, we are now moving towards other applications that influence user reviews, find information about a place. AR will also change how customers shop ad work online. What does this mean? This means there is a great potential for business to up their SEO game by making use of game-changing technology.
We know all major search engines like Google, Bing, and Yahoo use the primary search results technique. With the boom of AR, websites with AR-based content will rank higher in SERP via visual search. It's just a matter of time when everything from digital content and activity to offline advertising, physical locations, product images will be searched through AR. There is a dire need for organic search professionals to include augmented reality technology into their marketing strategies.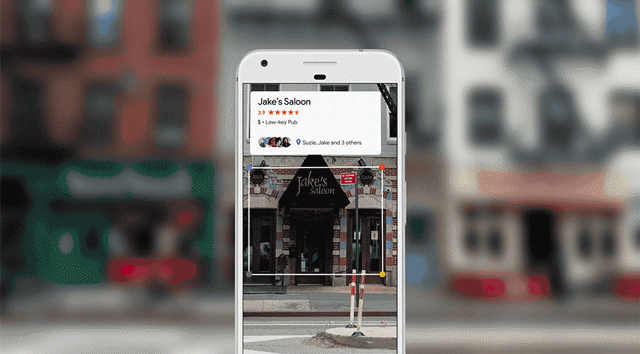 5 Ways Augmented Reality impacts SEO
 1. Growth of local SEO:
For small businesses, local SEO is the point of focus. But, AR reality has made it more critical than ever. AR applications give a boost to local SEO by making it easy to use mobile devices to gain information about the surroundings. Now, using your phone camera, you can scan business around and acquire information about products, services, ratings, reviews and business operating hours. To stay at the top of local SEO, first firms have to maintain and optimize Google My Business Listing. You have to include full information on your GMB so that people using AR can reap the benefits. Use strong citations, reviews and ratings and build a directory of reviews that will appear when using AR.
2. Social Media:
AR can give a boost to your brand's performances on popular social media accounts. By utilizing AR within your social media is a way to improve user engagement. You can use 360-degree images that use AR, Snapchat filters, Lens studio to entice your target audience. According to a study conducted, 74% of users within the age group of 12-24 use Facebook, and 57% use Snapchat. So, you can use AR to improve brand engagement and create a buzz for your brand on online platforms.
3. Make the website more interactive:
Social media is great in building and engaging the audience. But, for higher conversions, you have to make your website more interactive. You must offer interactive elements on your website that can be brought to life by using a camera. Just imagine AR on your webpage? Scanning it with your phone cameras and watching the webpage come to life. Wow, can be the only way to express your feelings. Although this idea is still in its initial stages, it has great SEO potential. The motive of the technology is to bring user engagement, and this is what AR does. With this feature, there will be a decrease in bounce rate, increase in session rate two factors that affect your web page rank.
4. User-generated content:
When it comes to optimizing content, storytelling can play the role perfectly. People like the idea of becoming a part of the story when it comes to business engagement. It delivers a way to impress potential consumers through entertainment and information sharing. And, AR is going to amplify this experience, making customers feel like they are inside the story. What if you want to acquire information about the statue of liberty? With AR, you can see the live representation of the monument while being able to walk around the statue, see it from various angles. All this while text will appear on the screen where you aim the camera. This is how AR helps in creating creative content.
5. More informed purchases:
AR should be a part of your website, app or in-store application to simply shopping process for customers. Through AR, customers can try outfits, see how good they look, try out a different hairstyle or a pair of glasses. This feature makes it easy for customers to complete their purchase leading to fewer abandon carts. AR-based services enhance customer experience giving you a great selling point over competitors.
Augmented reality is constantly moving and has a bright future for SEO. With the above points, marketers will get an idea of how AR is going to change the world of SEO. Local SEO will the key focus as the AR features for boosting local SEO are enormous.
Written By
Shamsher Singh Bhullar
17th July 2020
Shamsher Singh Bhullar, heading the business and sales department at Deftsoft, has 12+ cross-industry experience that makes him an expert with thorough knowledge of upcoming business concepts. He has successfully led multiple teams in Digital Marketing and AEM and has an art of converting challenges into opportunities. Apart from developing innovative business and marketing strategies, he is committed to inspire and empower everyone around him to portray their very best.
Have A Project in Mind?
Let us connect...