Brace Yourself for Google Web Stories in 2021
Brace Yourself for Google Web Stories in 2021
By Shamsher Singh Bhullar

22nd February 2021
Guess who is riding on the Google stories trend? It's not your friend or next-door neighbor who uses Facebook or Instagram to upload their stories. We are talking about Google, the search engine giant.
That's right; Google now allows website owners to create stories to promote their business. Sound's exciting, right?  Through Google web stories, businesses can post their short video content on websites without creating an account on social media, Instagram, Snapchat, and Facebook.
Whether you belong to the Gen Z category or are an old school, you will be familiar with Social media stories. We are talking about those circles that appear at the top of your social news feeds, where you can see videos, images shared by your friends, and contacts. Stories have changed the face of social media and now will change the way brands engage with customers on the Google SERP.
Web Stories is a Visual Story Telling Format-Alternative to News Feeds.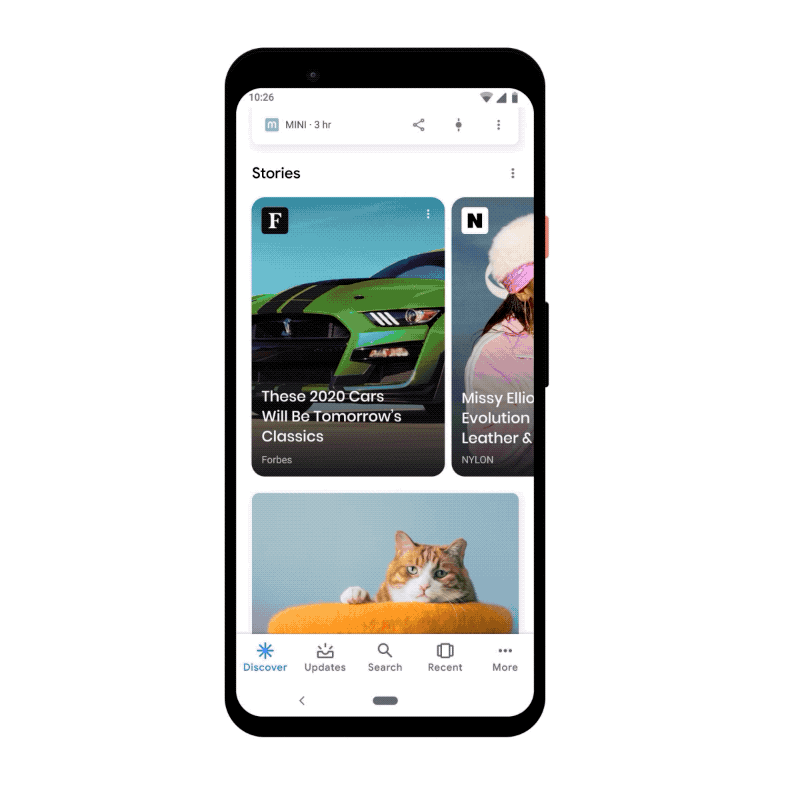 https://blog.google/web-creators/web-stories-discover-search/
When stories were first created, advertisers considered it as a new medium to present their products and services.  The reason being story Ads are more creative than conventional Ads that users often skip.  Stories offer an excellent way to create crisp, entertaining, and informative content.
Google announced Google web stories' placement in its Discover tab on the Google mobile app with 800 million active users. The stories feature is currently available in the USA, Brazil, and India. 
Google web stories have created an opportunity for SEO professionals, marketers, and content creators to enhance their user engagement.
What are Google Web Stories, and Why It's a Good News for Business?
Google web stories- the immerse, full-screen format allowing users to bring their stories to the web.  Google web stories offer fast-loading full-screen experiences to users. Through stories, you can create visual narratives with trappable interactions and engaging animations.  Although Google stories come in the same trappable format on social media, they appear on search results and on Discover in the Google Android and iOS app.  
Web stories allow you to feature full-service screen video, photos, and audio which can be shared and embedded. Use it to link to other content or pages on your website. According to the latest report, Google is thinking of incorporating quizzes and polls in web stories for better engagement.
What Benefits Google Web Stories Offer to Online Marketers?
https://blog.google/web-creators/web-stories-discover-search/
Google is the prime platform businesses use to promote their product and services. And now, firms are shifting towards web stories as it provides an interactive space for engagement topped with bookend capacities for viral distribution and monetization.
Why are businesses flocking around this new feature introduced by Google? Let's find out!
Stories Offer a Higher Reach.
With Google spreading the placement of stores, brands can reach out to any person and not only their followers and target audiences. Web stories are an extension of a website, publishers can reuse them for any purpose; use them as links in social media or on their homepage.
Easy to Create Creative Content
Web stories help in creating creative content. However, to create functional web stories, you must briefly know HTML, CSS, and JavaScript. There are many easy-to-do tutorials on the web that allow you to embed web stories on your website.
Flexibility to Create Customizable Content
Google web stories come with preset templates that you can customize according to your brand and standardized UI controls and share content on other platforms. They also provide a feature to add follow-up content as well.
It Comes with Fast Loading Time.
Slow loading time is the main reason for high bounce rate. Stories allow you to create quick content, thus increasing the loading time. If you don't want users to read long text, convey a message through stories.
 Sharable and Linkable Content
Through stories, you can share and embed your content across different apps without being confined in a single eco-system. This gives you an upper hand over social media stories, which you can share from one social media app to another.
Keep a Count on the Engagement Rate.
Unless you track the new feature results, you will not know whether it's working for your brand. Google allows you to measure web story engagement through analytics and bookend capabilities it provides for viral sharing.
What's the Role of SEO in Google Web Stories?
Wondering how web stories aid in search engine optimization?   Web stories are nothing but web pages that have:
– Their own role
– Link it to other web pages
– They are linkable
– They appear in search results.
This means you can do all the SEO things with web stories that you do on your web pages. Also, web stories are new, so there are no Google guidelines on how Google ranks your search engine stories.
How to Create Web Stories?
– To develop your own stories, there are two options available to users.
– You can either sign up to a 3rd party tool to create stories through drag and drop software and embed them into your website.

– Build a story with custom functionality.
The Future Potential of Google Web Stories
There is a great potential for Google web stories, especially for businesses. Developers are working continuously to make web stories a great tool which business can capitalize. In the coming days, don't be surprised to see some amazing features on Google web stories, puzzles, and contests, to name a few.
Is it time to start experimenting with the visual storytelling format? Hurry to create your first web story and get ready to see an increase in customer engagement.
Written By
Shamsher Singh Bhullar
22nd February 2021
Shamsher Singh Bhullar, heading the business and sales department at Deftsoft, has 12+ cross-industry experience that makes him an expert with thorough knowledge of upcoming business concepts. He has successfully led multiple teams in Digital Marketing and AEM and has an art of converting challenges into opportunities. Apart from developing innovative business and marketing strategies, he is committed to inspire and empower everyone around him to portray their very best.
Have A Project in Mind?
Let us connect...